Located in Kansai, Osaka is the third biggest city in Japan after Tokyo and Yokohama. It was formerly known as Naniwa, a name still used: Naniwa-ku is one of Osaka 24 wards.
Osaka Fullscreen Slideshow Gallery
A fullscreen gallery with photos shot in Osaka or around (Daito, Higashiosaka).
From left to right, use the icons displayed on mouse over (or when you touch the screen with your finger) to show/hide the Thumbnails, expand the gallery in Fullscreen, enable/disable Auto Play (slideshow) or share the images on Twitter, Facebook, Pinterest.



Osaka and the Kansai: the Kinki Region
Kansai ("west of the border"), the historical heart of Japan, lies in Honshū, Japan's main island. The Osaka Plain with Osaka and Kyoto is the core of the region.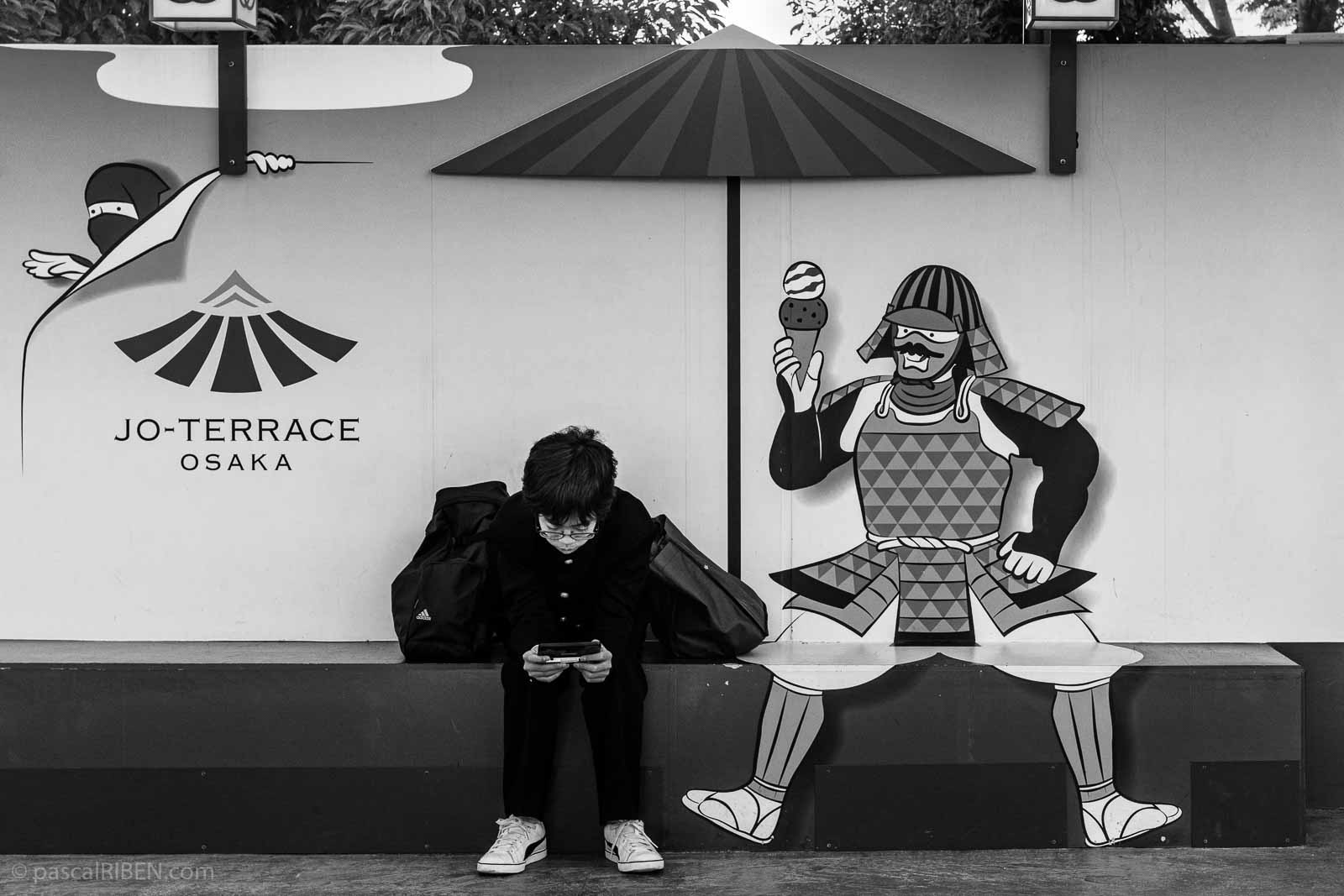 Other famous cities are Kobe and Nara. Both Kyoto and Nara are Japan ancient capitals.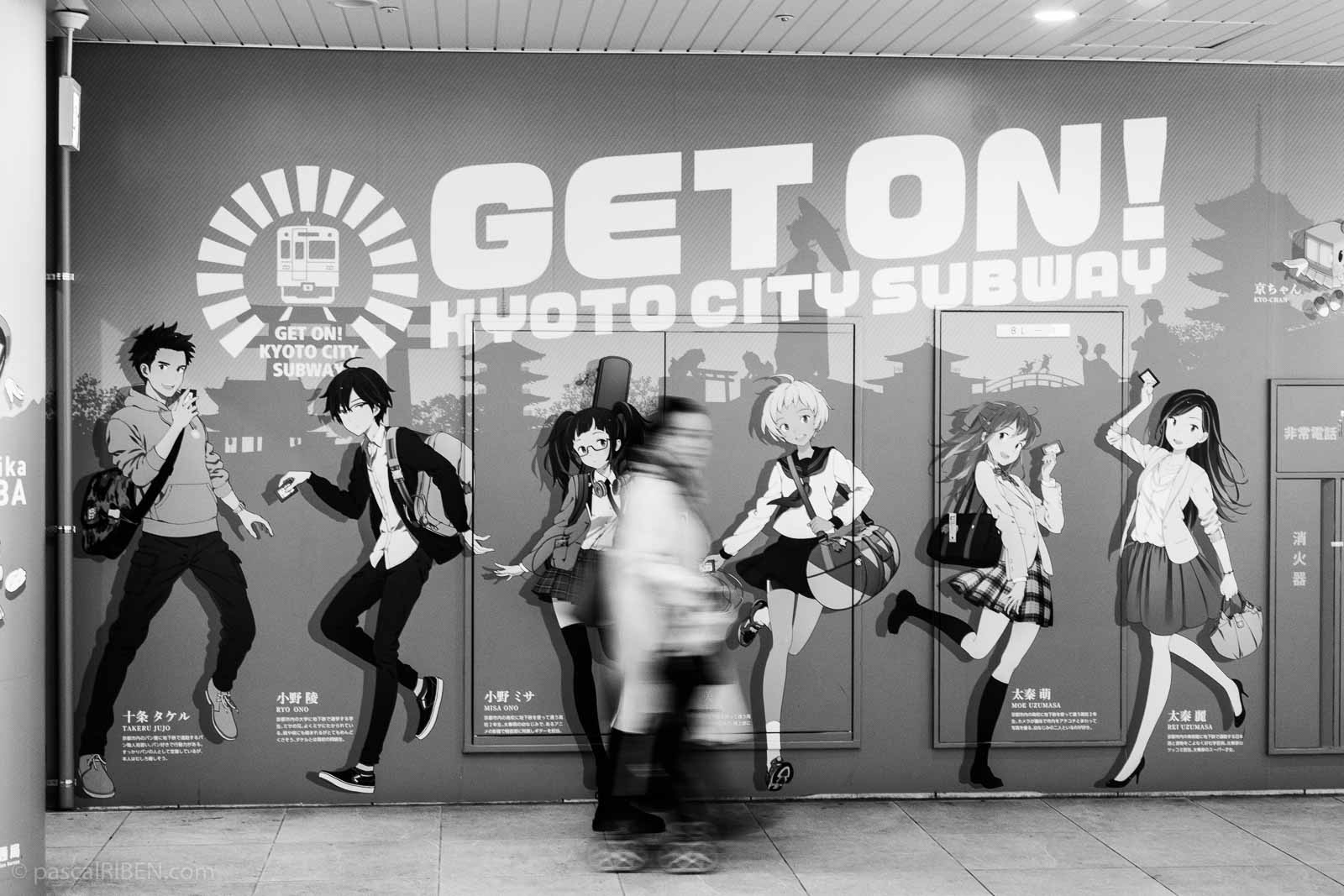 The Kansai dialect can be different from the Japanese language spoken in Tokyo.
Travel to Osaka: what to see?
Osaka Castle
Osaka Castle is a famous hot spot in Osaka but it's a reproduction as the original has been destroyed by fire many times.
An other famous castle in Kansai is Himeji Castle.
Umeda Sky Building
Built by the Japanese architect Hiroshi Hara, it was completed in 1993.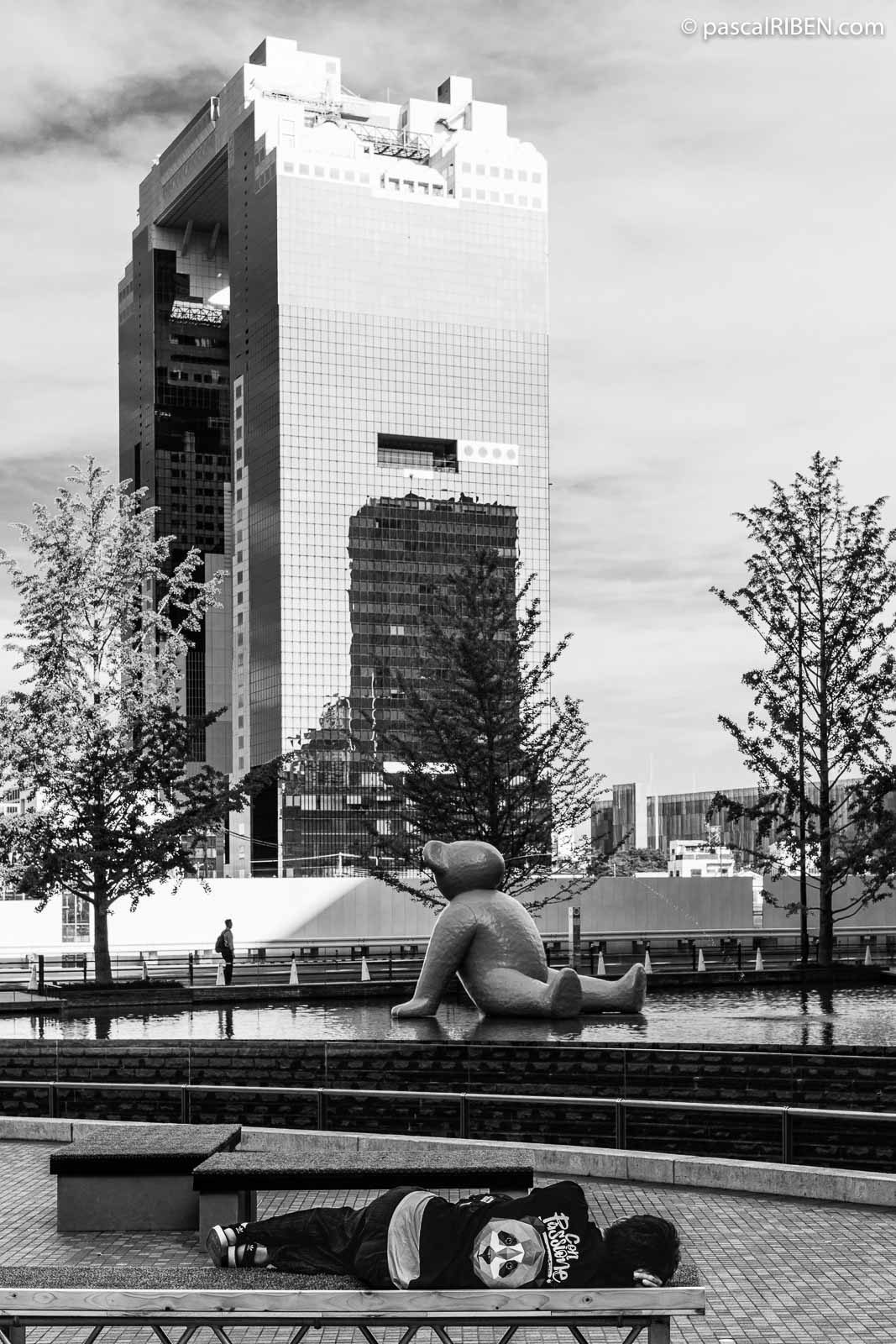 The 173 meter tall Umeda Sky Building is one of Osaka most recognizable landmarks. It consists of two separate towers that are connected on the top 39th floor by an observation deck, the "Floating Garden Observatory" featuring a 360 degree panoramic views.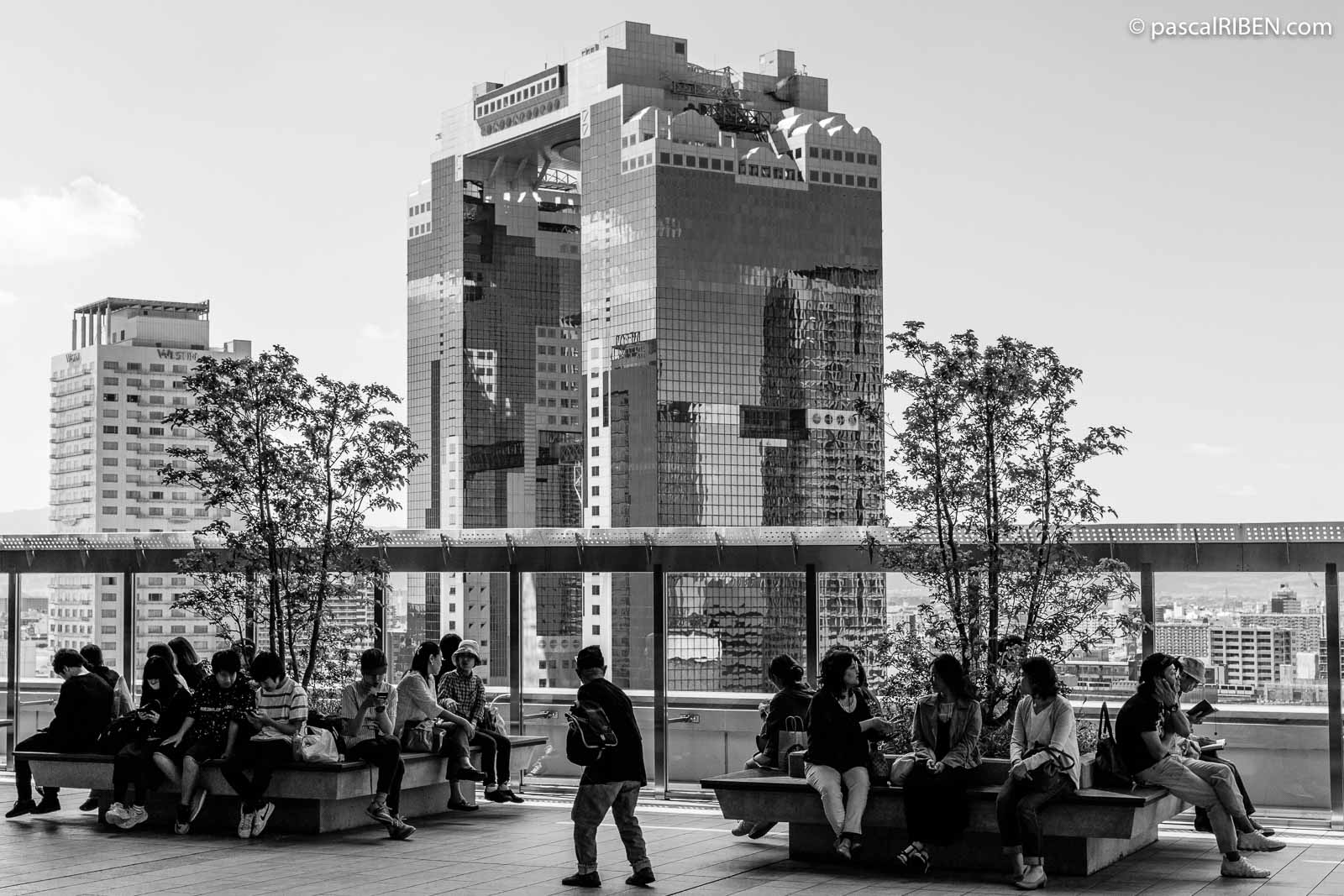 It is surrounded by an urban garden with walking trails and water features. There is also an underground market with restaurants. And even a cinema.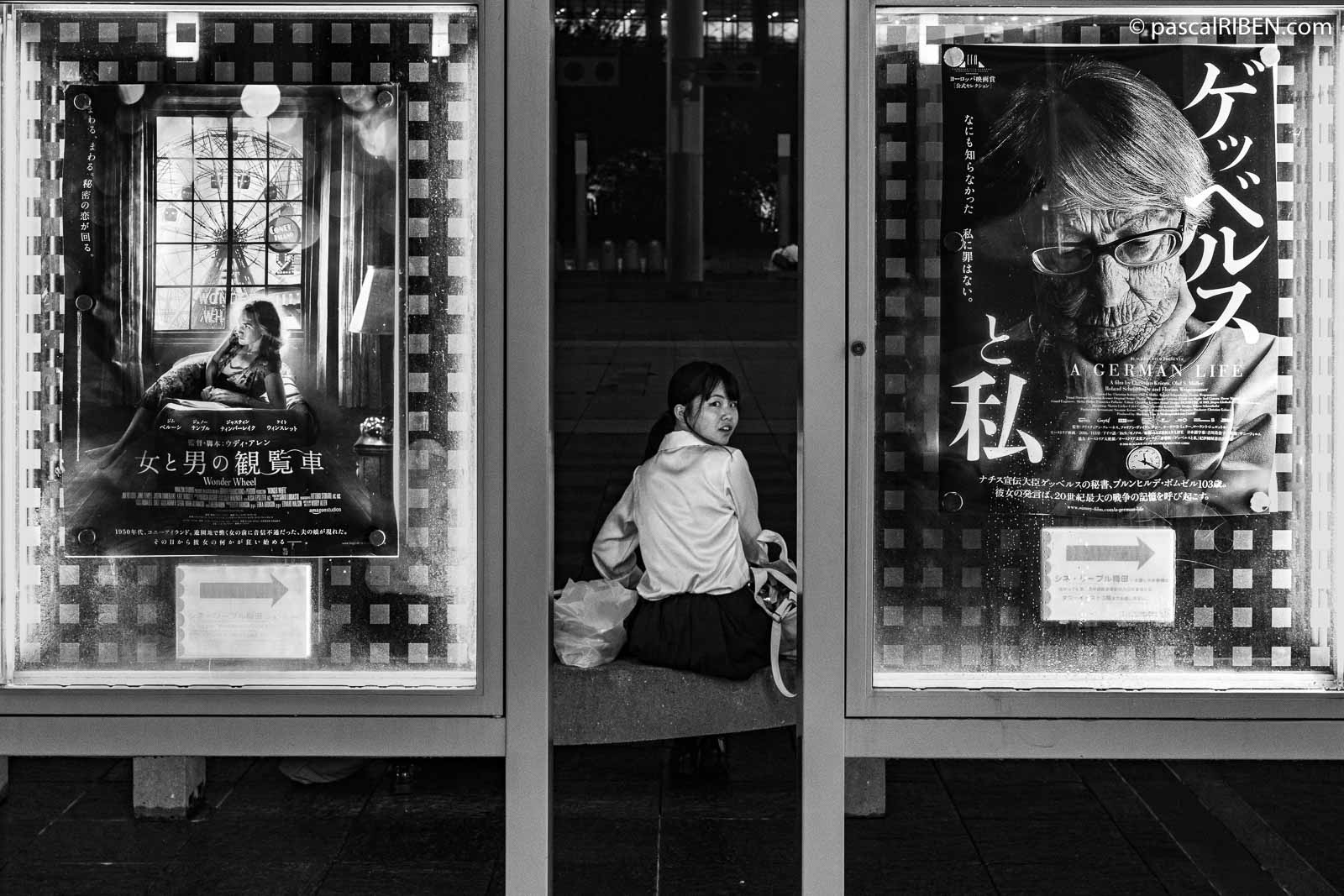 Osaka Station
Yesterday a dark and cramped station, Osaka Station was reborn in 2011 as Osaka Station City. It is divided into the North Gate Building and the South Gate Building,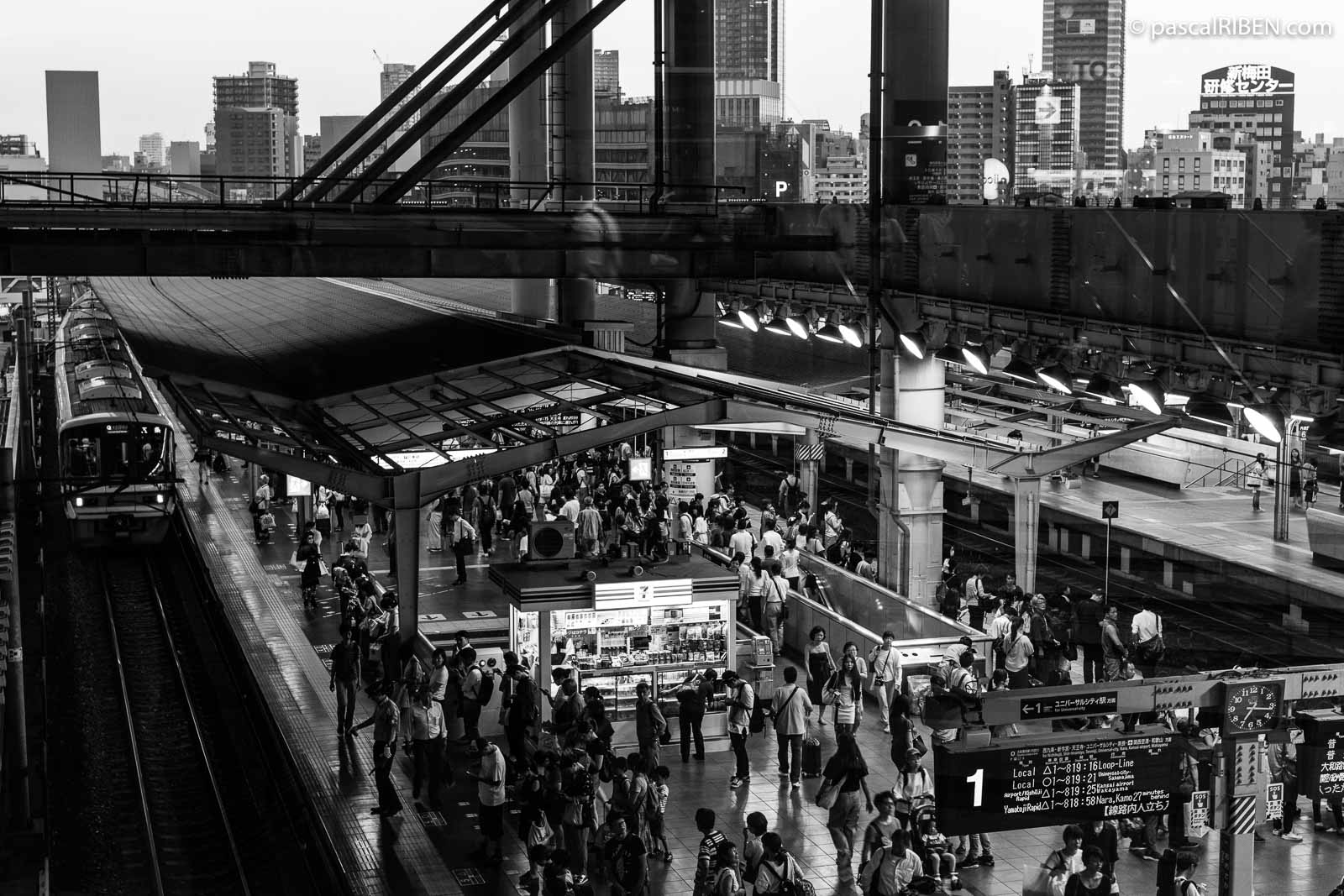 The Biggest Station in West Japan
Located in the Umeda district (Kita), Osaka Station is the biggest station in west part of Japan. Operated by West Japan Railway Company (JR West), it is served by a large number of trains, but not the shinkansen which stop at Shin-Osaka Station.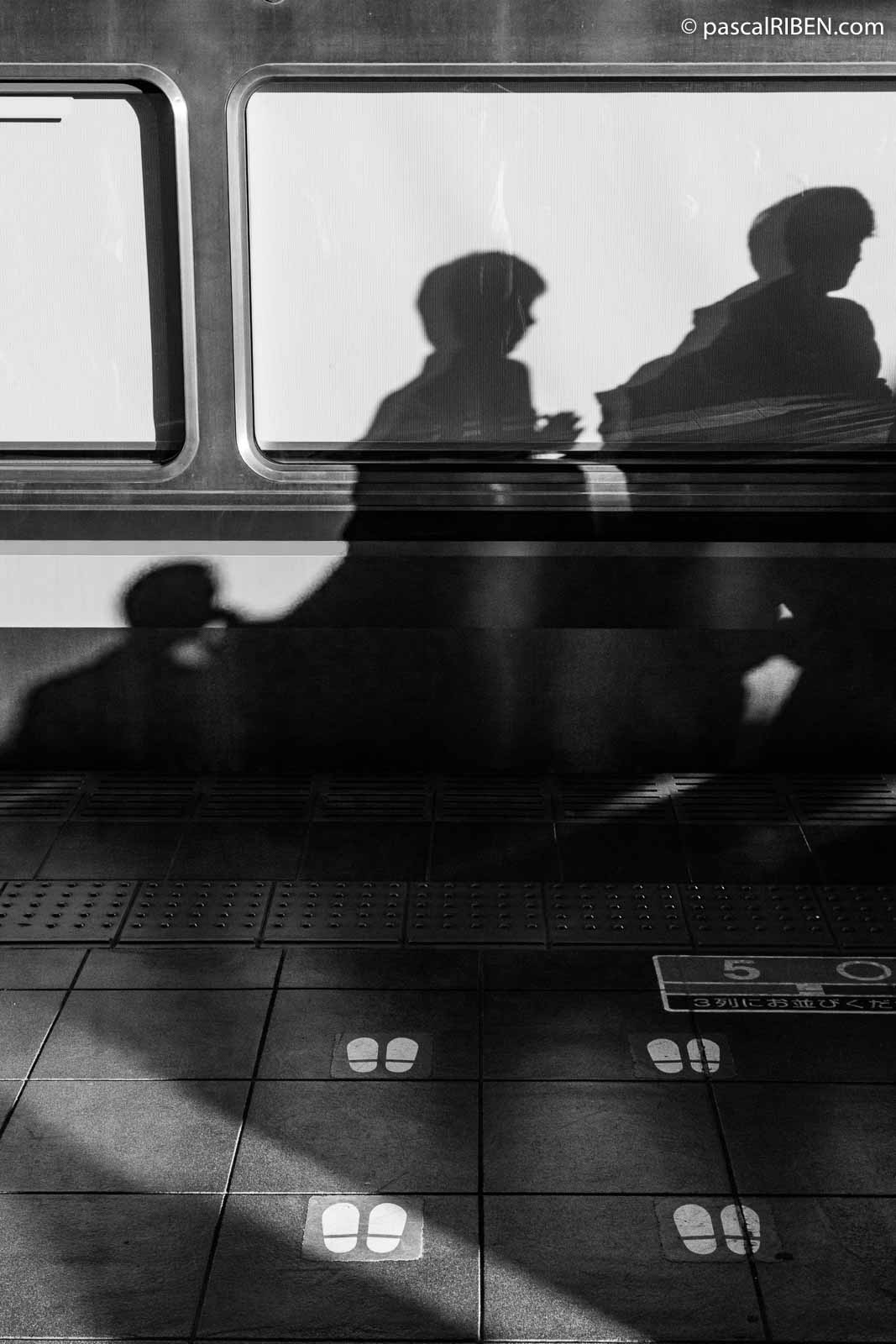 Toki-no-hiroba Plaza
Located on the 5th floor, Toki-no-hiroba Plaza is a bridge running between the North Gate and South Gate buildings.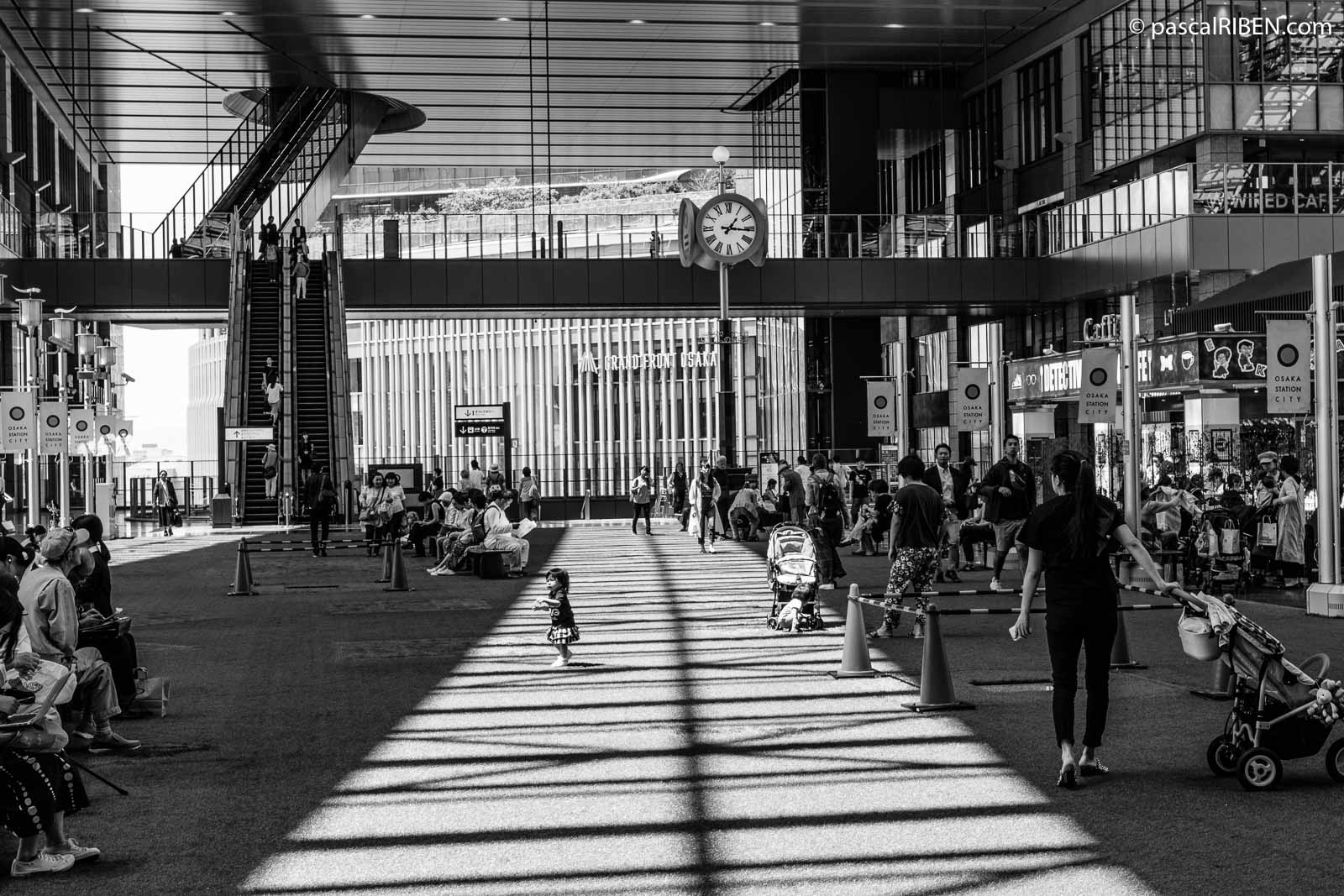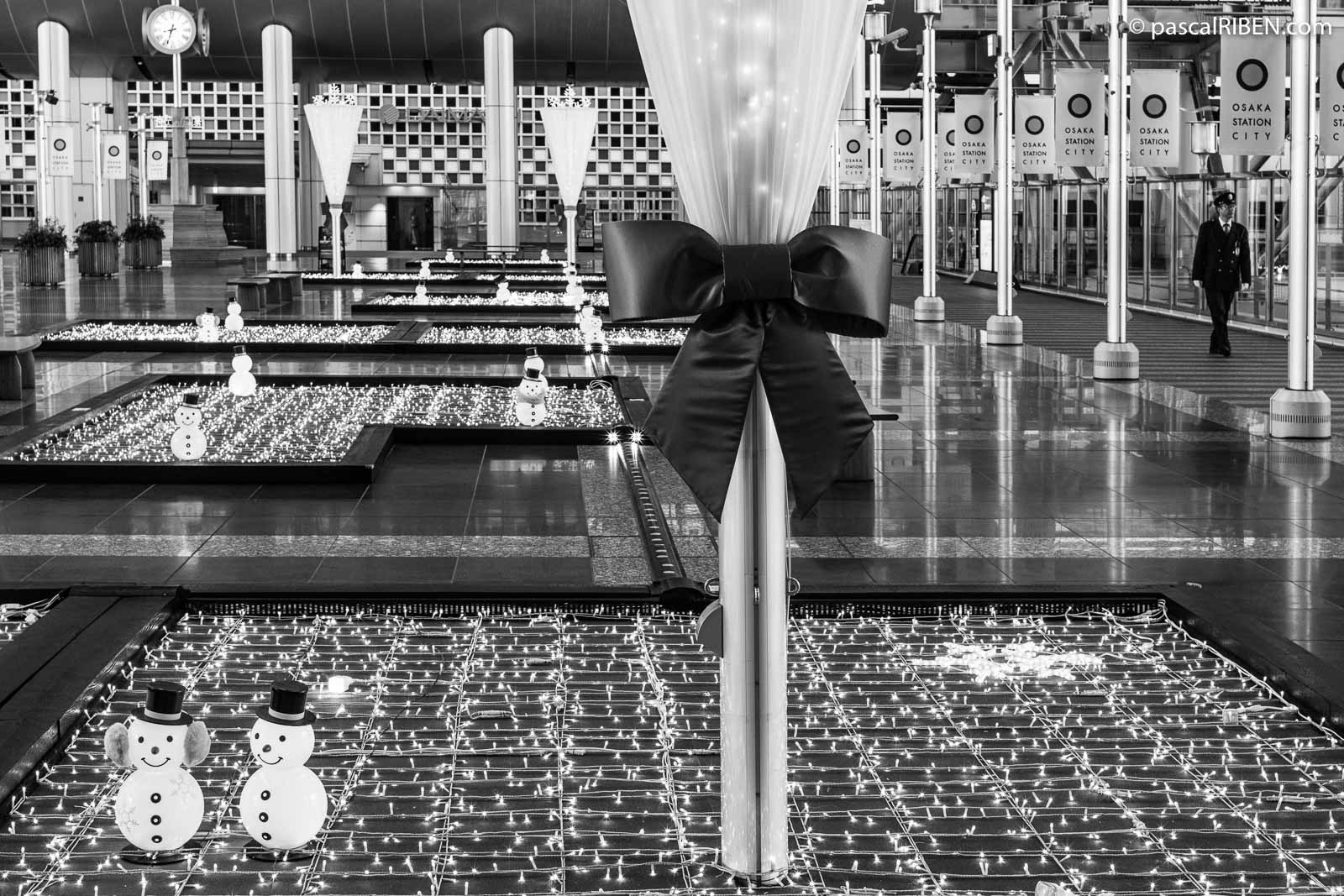 Kaze-no-hiroba Plaza
The "garden of the wind" is located on the 11th floor and offers a great view on the Umeda Sky Building and the city.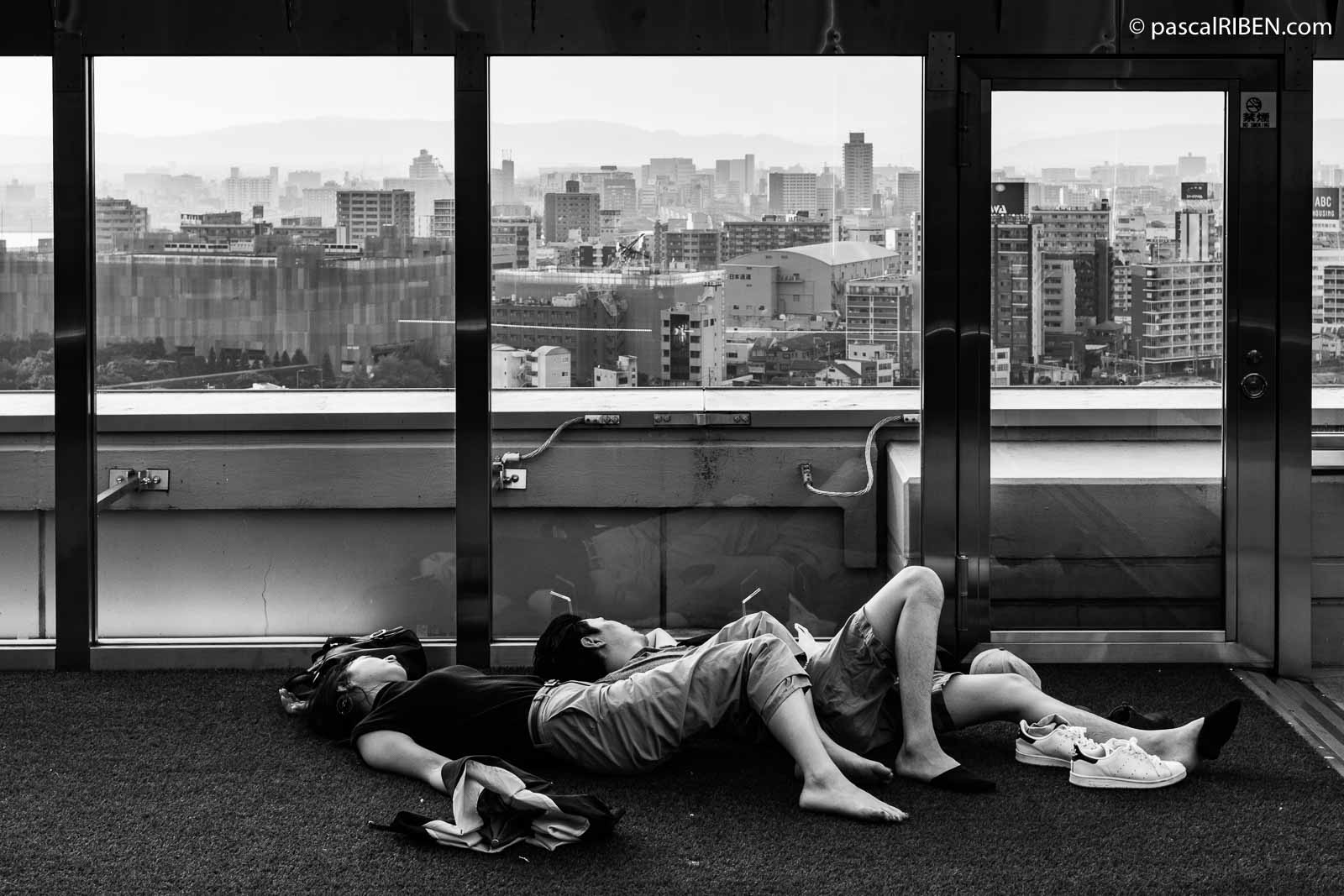 At the end of Kaze-no-hiroba plaza, you can find a cinema.
Water Clock
The computerized Water Clock is located at the South Gate Building square.
The Water Clock shows time, but also pictures, welcome message to visitors in different languages, and even some musical symbols like the treble clef.
The North Gate Building
Featuring 28 stories, the North Gate Building is the tallest of the two buildings. Both the Lucua department store and the Isetan department store are part of it.